Monthly Giving
Thank you for your interest in becoming a Monthly Partner! Your faithful financial support of Insight for Living UK is appreciated as together we communicate biblical truth and its application throughout the UK and Europe. As a Monthly Partner, you can receive a 15% discount on any of our resources!
We would be grateful if you could complete our standing order form, which is available by clicking the link below. Once you've filled out the details, print it out and post it back to us. If you are a UK taxpayer, and would like to make your donations go even further, please fill out a Gift Aid form as well to return with the standing order form. This will make a tremendous difference to us.
If you have any questions, or need further assistance, please contact our Listener Ministries team. Thank you.
Find out more about how supporting Insight for Living UK can make an impact in someone's life today.

Insight for Living UK sends out the Gospel message every day. You can help us to impact the hearts and lives of people all across the UK and Europe with God's Word.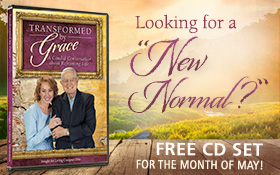 Insight for Living Ministries exists to provide tools to help you understand and apply God's Word to your daily life. This month, we are offering a new resource. Be sure to order your copy today!