Insight by Topic
Have you been looking for some encouragement on the heels of a broken relationship? Could you use some parental guidance? Or maybe you've been curious to know more about the beliefs and practices of early Christianity. Insight for Living has articles, broadcasts, and resources, and we've collected many of them here, organised by topic for easy access. Click play on the video to the left for a brief introduction from Chuck. We hope that God ministers to you as you browse these pages.
| | |
| --- | --- |
| In the times we live in, anger may be the emotion we see expressed around us most. Learning what's behind our anger helps us unlock underlying emotions. | Deepen your time in God's Word by delving into individual books of the Bible or by developing your understanding of Scripture as a whole. |
| Let the personalities of the Bible come alive for you. Learn about the experiences they faced, the choices they made, and how the lessons they learned apply to your life. | Living out the Christian faith on a daily basis is often quite challenging. Find practical wisdom to inspire you to "walk in a manner worthy of [your] calling" (Ephesians 4:1). |
| See the nativity story through the eyes of the ordinary, everyday people whom God chose to involve. As you do, your heart will burst with gratitude for the incarnation of the Son of God. | God has ordained the unique, vibrant structure of the church community so that we may mature spiritually, love each other completely, and serve Him passionately within it. |
| Trace the finger of God through the 2,000-year-old history of the church and experience how God has sustained her—even through times of great persecution. | When crisis shakes you all the way to your foundation, you need to find a way to return to the truths you embraced before the crisis. Cling to our unchanging God, who offers the hope you need. |
| The feelings of grief over the passing of a loved one can overwhelm us. But we must never forget that Jesus's love and comfort will never, ever leave us. | As the church becomes increasingly affected by the secular viewpoint on divorce, let the Author of reconciliation, forgiveness, and healing present a different view |
| Understand better the fusion of love and power that took place when Jesus died and rose from the dead, why there was no other alternative, and why it makes all the difference today. | Life comes at us hard sometimes and throws us curves we don't expect. Find words of comfort here that pertain to the personal struggles you're currently facing. |
| Find out what you should know about the end times, and what, if anything, you should do to live out your faith in the midst of these turbulent times. | Many messages both in-and-outside the church try to tell us we don't measure up. We've failed. Yet God can use even real failure to do His might work in and through us. |
| There are various kinds of forgiveness, some being much harder than others. But all are essential if we want to maintain a close, unhindered walk with our Lord. | Acquaintances come and go throughout our lives, but one who becomes a treasured friend is worth holding onto. Learn the qualities and benefits of true friendship. |
| How can we know if we're really making progress in our spiritual walk? This list provided by Paul is a great place to start in seeing if the Spirit controls our thoughts. | There are many names for God, but He still remains mysterious. Yet He delights when we seek to know Him better for He knows how the pursuit profits us. |
| It would be nice to see God's will for your life laid out before you. Or would it? Find out some of the ways God reveals His will and how better to seek it. | Tapping into the wonders of God's grace will make the difference between ho-hum religion and an intimate relationship with a God who wishes us nothing short of joy. |
| Grandparents have a unique opportunity to encourage and mentor using their life's wisdom. If you find yourself in that role, you'll enjoy these reflections and resources. | Understanding the Holy Spirit's role in your life as a Christian is crucial. Stop traveling by foot and instead board the jumbo jet of His transforming power! |
| Do you know about God, but you're not sure that you know Him personally? Find answers to your questions, and if you are a believer, find help in sharing your faith with others. | Overburdened by your responsibilities? Taking life a bit too seriously these days? Step away from the news headlines for a spell and concentrate on the lighter side of life. Let yourself laugh! |
| Studying the geography of Israel sharpens your understanding of biblical events—and may make you want to join the thousands who have made the life-changing journey to the Holy Land. | Jesus easily stands as the most influential person in history. Even today, millions call Him Saviour. Why? What was it about His short time on earth that shook the world so? |
| Being a leader always comes with its challenges! Find strength and guidance to help you become the godly, wise leader God can equip you to be. | How are Christians supposed to stand out from others in our culture? By how much we love each other and seek out those, overlooked by others, who need love badly. |
| Our world's temptations continually assault couples who are seeking to maintain a committed, faithful marriage. Receive God's wisdom on how to get through the rough times. | Receive some heart-to-heart advice geared toward the difficulties and challenges unique to men and the pressures they feel in today's fast-paced, permissive culture. |
| Is it possible to pursue a morally pure life in the midst of our sex-saturated society? Our Men's Purity page will help you submit your desires—and your thought life—to God. | Parenting is life's ultimate challenge and greatest fulfilment. Find helpful perspectives to renew your energy and be reminded of the crucial role only you can fill. |
| Benefit from Chuck Swindoll's more than forty years of pastoral experience as he shares from his heart the valuable insights God has given him throughout his ministry. | We sometimes forget we can come before the God of all creation at any time with any concern on our hearts. Recognise this privilege and honour for what it is! |
| Sexual abuse is a devastating sin that leaves scars of all kinds. But in Jesus Christ and His church protection, guidance, and healing can and must be found. | Is it too harsh to label as "sin" another person's private choices? And how much emphasis should we place on our own failures? Find the proper balance on this subject. |
| If the special needs and pain in your life are leaving you desperate to find hope and peace, let these resources remind you that eternal hope exists for you today. | As Christians we must think carefully about our stewardship in ways that honour God. The tools on this page can enlighten your mind and attitude as you seek to become a godly giver. |
| How important it is for believers in Christ to know what we believe and why we believe it! Take time to learn the essential truths of our faith. | Women feel many pressures to conform to our culture's expectations. Be redirected to the biblical model and see that the true beauty of a woman comes as she honours God. |
| Every woman wants to be cherished and seen as uniquely valuable. Our Women's Purity page will help you submit your dreams to God in exchange for His best for you. | Understanding what true worship is—and is not—will free your soul and spirit to engage in this vital communication between you and your Saviour. |
Why would I return to Lebanon from a place of relative safety after years of absence? Because I knew in my heart there was too much to do, too few hands to do it, and too little time to reach my country for Christ. In the years since my return, I've witnessed the Lord's powerful hand of protection and provision.
July 1979, Insight for Living was born. Today, it can be heard worldwide on more than 2,000 stations and in eight languages! People often ask, "Chuck, was this your plan?" No! Cynthia and I never had a masterplan, but we did follow THE Master's plan.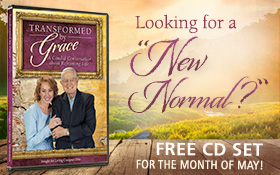 Insight for Living Ministries exists to provide tools to help you understand and apply God's Word to your daily life. This month, we are offering a new resource. Be sure to order your copy today!