Imagine Chuck as Your House-Group Leader
Any football team would love to receive tips, personal instruction, and skill demonstrations from an experienced pro like Bobby Charlton. Well, now your house-group can get top-notch spiritual training from Chuck Swindoll—the Bobby Charlton of Bible teachers!
Each of our four small-group studies includes DVD messages taught by Chuck and a paperback Bible Companion that provides real-life application of God's Word. These studies will inspire and challenge your small group to pursue fellowship with God and each other.
With a new school term about to begin and Bible-study programmes resuming, now is the perfect time to invest in Insight for Living Ministries Bible Companions. All of these Bible studies follow Chuck's sermon outlines and include the following features:
A synopsis of the main ideas of each lesson
Questions to guide small groups deeper into God's Word
Special features that provide additional material to expand your understanding of Scripture, including: Hebrew and Greek word studies, theological, and historical overviews of biblical cultures and customs
Application points to help small groups integrate Scripture into their everyday lives
Reminders to pray as you read, study, and live out God's Word
Below you will find some information regarding the four house-group DVD studies you can find on our Web site.
Experience the Land and the Book, DVD and Bible Companion Set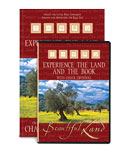 Would you and your small group love to visit Israel without leaving your living room? Join Chuck Swindoll via DVD for meaningful messages from God's Word, taught on location in places like old Jerusalem, Caesarea, the Mount of Beatitudes, and even aboard a boat on the Sea of Galilee. This DVD curriculum will open your house-group's eyes to the fascinating land of the Bible.
Six messages delivered by Chuck at important biblical sites
Six dramatic portrayals of biblical characters by a professional actor and director of Media and Communication Program and professor of Pastoral Ministries at Dallas Theological Seminary
100-page Bible Companion with 6 chapters that allow you to take your study of each of Chuck's messages to the next level with questions, historical background, and personal application
Supernatural Living in a Secular World, DVD and Bible Companion Set

We all desire to live victorious Christian lives in our non-Christian culture. Experience some life-changes by practicing principles from Romans 6–8 taught by Chuck Swindoll. Learn to win the battle against deep-seated sin, trust in God's providence, and persevere through suffering.
Five practical messages on DVD delivered by Chuck
108-page Bible Companion with 10 chapters for individual or group study
Life-altering truths from Paul's letter to the Romans
Family Matters: Investing in the Things That Last, DVD and Bible Companion Set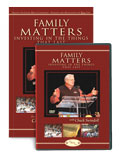 Insight for Living wants to help you and the members of your small group develop family investment strategies that won't fail. And with an adviser like Chuck pointing out "can't-lose" principles from the Bible, the dividends will last a lifetime—and even into eternity.
Five transforming messages on DVD delivered by Chuck
149-page Bible Companion with 10 chapters that explain God's view of the family
Practical steps for investing in time, love, and communication with your family
A Life Well Lived: Discover the Rewards of an Obedient Heart, DVD and Bible Companion Set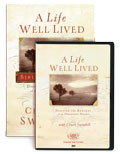 What does it take to live the life you really want? Starting with Micah 6:8, Chuck Swindoll clarifies what God desires for His children. And discovering God's expectations will enable us to enjoy the rewards of a life well-lived.
Four dynamic messages on DVD delivered by Chuck
99-page Bible Companion with 4 chapters to help your house-group understand true obedience, kindness, and humility
llustrations of obedience from the lives of Peter, Joseph, David, and Daniel
All DVD sets include one Bible Companion. However, if you require additional copies for group study, we offer a bundle of five Bible Companions at a discount.
Let Bible teacher Chuck Swindoll ignite your house-group with a love for God's Word. Click here, or call 0800 787 9364 to order these group studies today!