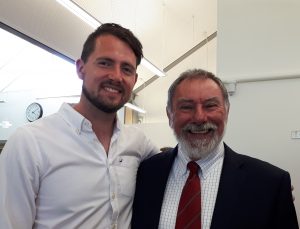 Congratulations to Matt Kefford from Reigate Baptist Church!
Matt is this year's Moorlands College Preaching Prize winner. Insight for Living UK has sponsored the Moorlands Preaching Prize for several years, and we always like to bless the winner with a selection of books written by Chuck Swindoll.
On the 22nd of June 2018, Terry Boyle travelled to Moorlands for their Thanksgiving Ceremony.  Listen to Terry's conversation with Matt after presenting him with a set of Swindoll's Living Insights New Testament Commentary.