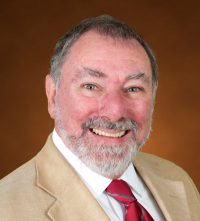 Terry Boyle serves as Pastor for Insight for Living UK. His ministry involves teaching a weekend radio programme, hosting Chuck's weekday and weekend Insight for Living broadcasts, helping with issues that come in from listeners, and providing a personal and local approach to Pastor Chuck Swindoll's ministry.
Terry was born in Windsor, England. He moved to the United States in 1981. Although he began his professional life as a biochemist, Terry holds a Th.M. in Pastoral Ministry and a Ph.D. in Biblical Studies from Dallas Theological Seminary in Dallas, Texas.
Terry served as senior pastor of a Bible Church in Dallas until he and his family moved back to the UK in 2007, to take on the role of pastor for Insight for Living United Kingdom.
Terry and his wife Rose Ann have three grown children: Hannah, Emily, and Terence.
"People from all walks of life and all sorts of churches listen to our programme, and it's a privilege to be available to minister to them from the Scriptures. From the beginning to the end, the Bible speaks of God's grace, mercy, justice and holiness, and all these come together in the work of His Son, Jesus Christ. That's what we all need to hear about." – Terry Boyle