Good Morning, Lord . . . Can We Talk?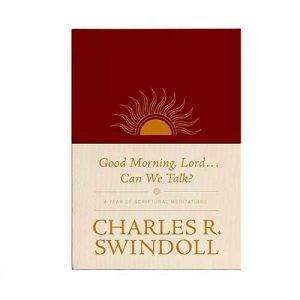 Do you long for daily encouragement and inspiration? Do you wish your quiet times were filled with power and purpose? Discover the joy and ease of meeting with God each day in a meaningful way with this year-long devotional by the world's premiere Bible teacher, Chuck Swindoll.
Filled with daily insights, Good Morning, Lord . . . Can We Talk? will give you a glimpse of the living power of God in your own life—and connect you to the restorative promises God speaks in His Scriptures.
Look for this 384-page LeatherLike book to be available in September 2018!
Chuck's Writing Ministry
Although many listeners have come to know and love Chuck Swindoll through his popular radio broadcasts, Chuck also has a far-reaching, prolific writing ministry. With more than 90 titles to his name, Chuck has been awarded 12 ECPA Christian Book Awards.