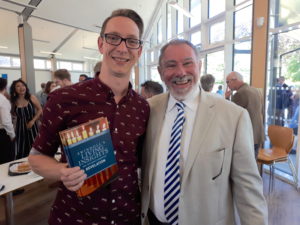 Our congratulations go to Andi Norton, this year's winner of the Preaching Prize at Moorlands College.
Andi started out with Youth for Christ, then invested himself in youth and worship. He currently serves as associate church leader at Bransgore Community Church. Andi's heart is to really dig into and unpack the Scriptures so that he can preach effectively.
Insight for Living UK has sponsored the Moorlands Preaching Prize for several years, and we always like to bless the winner with a selection of books written by Chuck Swindoll. On the 21st of June 2019, Terry Boyle travelled to Moorlands for their Thanksgiving Ceremony where he awarded Andi with a set of Chuck Swindoll's New Testament Commentaries.